The Bitcoin network has grown in difficulty yet again as it recorded a new All-Time High (ATH) of 29.794T.
The difficulty level is computed based on the overall computing power plugged into the network, and the new record is published every two weeks.
The mining difficulty is a measure of how hard it will take miners to validate a block, and the higher this figure, the harder it will take miners to solve the puzzle that generates Bitcoin. Overall, this mining difficulty is a positive indication of network health as more computing resources indicate a massive decentralization which shows how secure the protocol is.
The mining difficulty suffered a very massive plunge back in July last year when it bottomed out at 13.673T. The ban on Bitcoin mining stirred the plunge by the Chinese government as miners scampered to find refuge in other regions. Since the miners started coming back online after the routing experienced from Asia, the mining difficulty has been on a steady uptrend, as shown in the chart below;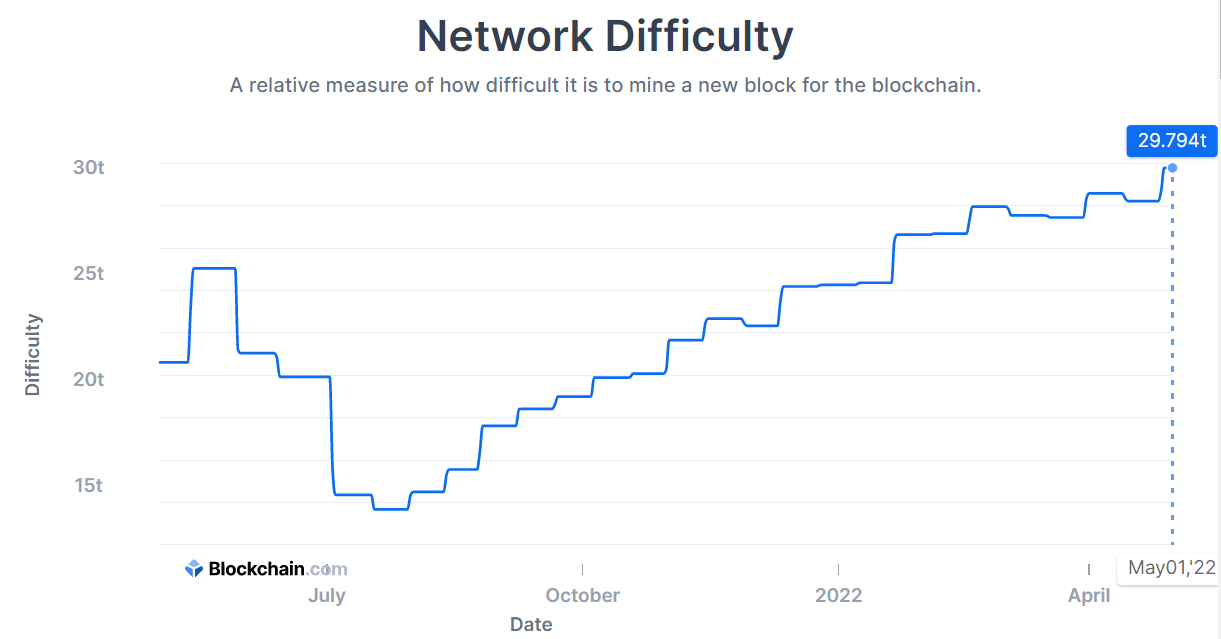 Source: Blockchain.com
Besides the mining difficulty, the network hashrate also attained an ATH of 258 EH/s. The on-chain fundamentals surrounding Bitcoin are very healthy, however, this has not translated into a burgeoning price for the premier digital currency. At the time the difficulty ATH was recorded over the weekend, Bitcoin's price printed its 7-Day low at $37,585.79 as investors chose to dwell more on the FUD spread by billionaire investor and philanthropist Warren Buffett. They said all the BTC in the world is worth nothing.
Nonetheless, the growing network difficulty is also poised to make the entire protocol more secure as miners jostle to get a share of the last of the 2 million BTC yet to be mined. Eventually, the growing competition is billed to stir increasing difficulty and a corresponding embraced by investors who cherishes decentralization and security.
Image source: Shutterstock