Lele Jima


Shiba Inu supporters have burnt more SHIB in the past few days via the burn portal compared to the number of burns prior to the launch of the initiative. 
Enthusiasts of popular dog-themed cryptocurrency SHIB have shown a massive interest in the recently launched Shiba Inu burn portal, as the number of SHIB burnt through the initiative continues to accelerate. 
The number of SHIB that have gone up in flames via the newly launched Shiba Inu burn portal surpassed 16 billion in just a few days after the initiative went live. 
This is more than the number of Shiba Inu burnt by the entire SHIBArmy, enthusiasts of the cryptocurrency for the year from January to April 23, 2022, which was around 12.7 billion SHIB. 
While Shib burn portal is able to burn 19,737,327,938 (19.7B) SHIB Since April 24 after launch in 5 days.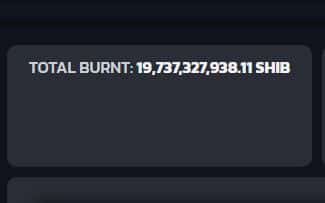 Prior to the official Shiba Inu burn portal launch, March was considered the record-breaking month for SHIB burns, seeing six billion SHIBs sent to the dead wallets created for the exercise. 
However, the feat is nothing compared to the massive burns recorded via the official burn portal. 
There has been enough interest in the newly launched burn portal mainly because of Shiba Inu's developer's association with the project and the promise that users who participate in the exercise will receive passive income. 
Details of Transactions on SHIB Burn Portals
Since the burn portal went live on April 23, 2022, over 1,100 individual burns have been recorded. On April 25, 2022, one address sent 1.32 billion SHIB via the burn portal to the dead wallet. The transaction is regarded as the highest single burn recorded since the burn portal went live.
It is worth noting that the different burning exercise is part of efforts to ultimately reduce the cryptocurrency circulating supply of over 549 trillion in order to increase the value of the cryptocurrency to $0.01 cent. 
While there has been a lot of destruction of the Shiba Inu coin, the token's value has not reacted as many would expect in recent times. 
At press time, SHIB is trading around $0.00002293 across major cryptocurrency exchanges, including Binance, and the coin has been down over 7% in the last seven days. 
– Advertisement –