Zabi


Shiba Inu (SHIB) Burning Saga Continues; Another 2 Billion SHIB Permanently Removed From Circulation.
Shibburn.com recently reported that within the last 24 hours, 159 transactions were made, through which 2,030,364,253 (2.03B) dog-themed tokens have been taken out of circulation forever, with the help of a new burn portal.
In the past 24 hours, there have been a total of 2,030,364,253 $SHIB tokens burned and 159 transactions. Visit to view the overall total of #SHIB tokens burned, circulating supply, and more. #shibarmy

— Shibburn (@shibburn) April 29, 2022
The burn rate appears to surge 184.24% over the last day when 712,842,408 (712.84M) SHIB tokens were burned through 115 separate transactions.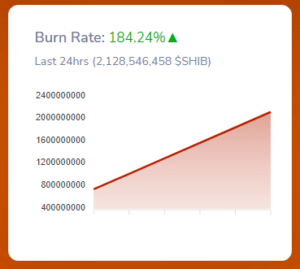 On April 23, 2022 (6 days ago), the "SHIB Burn Portal" was officially launched on ShibaSwap and now the tokens are being burned in billions per day instead of millions. In this way, "Burn Portal" appears to be a major success for the Shiba Inu ecosystem.
Within 6 days of launch, 19,737,327,938 (19.73B) SHIB, worth $452,379 were taken out of circulation forever through hundreds of transactions by the burn portal.
As reported earlier by TheCryptoBasic, a total of 1,461,828,101 (1.46B) SHIB were permanently removed from circulation through 160 transactions on April 27th, 5 Billion Shiba Inu Burnt on April 26th, and a single unknown wallet burnt more than 1B shib on April 25th, all happening after Shib Burn portal launch.
Shiba Inu (SHIB) remains under some mild selling pressure despite the massive burn. At the time of writing, SHIB is seen trading at the price of $0.00002289, down -1.52% over the last day, with a 24-hour trading volume of $499,835,064 ($499.83M).
– Advertisement –