Zabi


"BlueWhale0073" bought 100.4B Shiba Inu.
As of today, the blockchain data tracking website reports that "BlueWhale0073" has made another massive purchase of 100,469,653,862 (100.46B) SHIB, worth $2,329,891 ($2.32M) through one transaction.
🐋 ETH whale "BlueWhale0073" just bought 100,469,653,862 $shib ($2,329,891 USD).

Transaction: https://t.co/afy38OzbLk#SHIB #ShibArmy

— WhaleStats – BabyWhale ($BBW) (@WhaleStats) April 27, 2022
The Shiba Inu accumulation for the 5th biggest ETH Whale labeled "BlueWhale0073" has no stopping, and her consistent buying is fueling a bullish sentiment among investors.
Top ETH Wallet "BlueWhale0073" Transferred 393.02 Billion Shiba Inu (SHIB), Worth $9.36 Million, to the New Mysterious Wallet within 72 Hours.
"BlueWhale0073" keeps on gobbling up a big chunk of SHIB tokens for the last 72 hours. She accumulated a whopping total of 393,801,883,649 (393.80B) SHIB, worth $9,386,438 ($9.38M) through four separate transactions.
The etherscan.io data unveil some exciting facts about the 5th biggest ETH wallet. The whale is undoubtedly consistently accumulating SHIB in large quantities for the last 72 hours, but she has also been found transferring her assets to one mysterious wallet.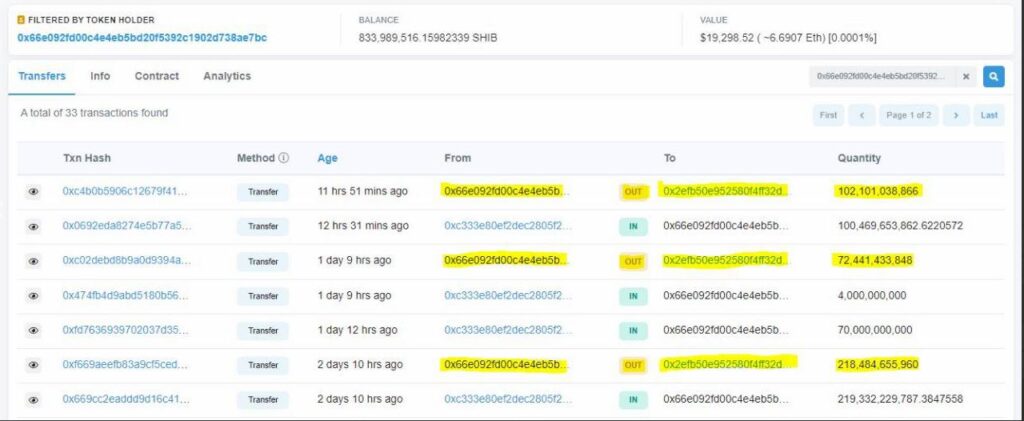 "BlueWhale0073" wallet transferred 393,027,128,674 (393.02B) SHIB, worth $9,360,628 ($9.36M), through three separate transactions to the new mysterious wallet address.
The mysterious whale which TheCryptoBasic exclusively discovered now holds a hulk total of 6,257,026,637,455 (6.25T) SHIB, worth $144,912,736 ($144.91M) in her wallet, as per data provided by etherscan.io.

– Advertisement –