Zabi


1.47 Billion Shiba Inu (SHIB) Burnt Within 24 Hours; 21.60 Billion SHIB Burnt In Total Since SHIB Burn Portal Launch.
The recently released "SHIB Burn Portal" is getting a super crazy response from the community, as over 1.47 billion SHIB tokens have been permanently removed from circulation during the period of the last 24 hours.
As per Shibburn.com's recently released data, a mind-boggling total of 1,472,795,311 (1.47B) SHIB, worth $32,622 has been burned through 146 separate transactions in the last 24 hours, by making use of the newly launched "Burn Portal".
In the past 24 hours, there have been a total of 1,472,795,311 $SHIB tokens burned and 146 transactions. Visit to view the overall total of #SHIB tokens burned, circulating supply, and more. #shibarmy

— Shibburn (@shibburn) April 30, 2022
However, the burn rate for SHIB declined by -16.92% compared to the previous day when 2,030,364,253 (2.03B) canine-themed tokens were sent to the "inferno" address through 159 separate transactions.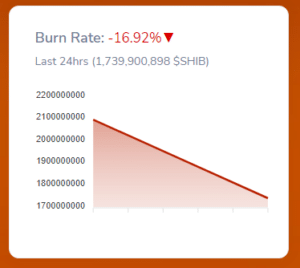 "SHIB Burn Portal" was officially released on ShibaSwap on April 23, 2022 (a week ago). Since then, a whopping total of 21,601,611,341 (21.60B) SHIB, worth $479,339 has been successfully taken out of circulation forever through nearly a thousand separate transactions.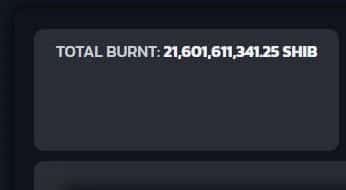 Besides this, the first-ever SHIB-themed fast food restaurant, Welly comes up with the future burn plans for Shiba Inu. Italy-based fast food Company officially disclosed that they aim to contribute towards SHIB burns in different ways in the near future, like they will allocate 2% of the total net profit collected from all the stores for burning SHIB along with some portion of franchise fees.
Recently, Welly has officially granted the Shiba Inu Community full 15% ownership of the Welly Company. The company announced that this ownership percentage will go directly to Shiba Welly Wallet, which is supposed to be controlled by the community through votes. This means the community would have the power to decide through Doggy DAO votes using BONE (another token of the Shiba Inu ecosystem), whether they want to use this percentage or a part of it for burn, rewards, or to invest in Welly's expansion.
#WellyFriends #SHIBARMY
Utility 7 of 7
1/3
We're honored to grant @Shibtoken decentralized community FULL 15% ownership of the Welly Company! On our road to acquisition, this is an amazing way to give back to the community which loves us so much.

— WELLY (@wellyfriends) April 29, 2022
At the moment, Welly is open for franchise applications all around the world. Over 300 applications have been received and are undergoing review. Once the review process gets completed, the team will get in touch with the most suitable and appropriate franchisers for interviews.
– Advertisement –