After hitting lows of $37,585 over the weekend, Bitcoin (BTC) has gained some momentum and breached the $38K level.
The leading cryptocurrency was hovering around $38,526 during intraday trading, according to CoinMarketCap. 
Nevertheless, BTC is not out of the woods yet based on the nervousness about the FOMC meeting on May 3rd and 4th. 
As the Federal Reserve's monetary policy body, the Federal Open Market Committee (FOMC) is mandated with creating policies meant to promote economic growth and stable prices. 
Therefore, it is anticipated that economists will raise the base interest rate by half a percentage point, a scenario not seen in 22 years.
These measures are being formulated to tame runaway inflation rates because another half a percentage point increase is expected in June. 
Meanwhile, things have not been rosy for Altcoins as they continue to be in the red. For instance, Ethereum (ETH) and Binance Coin (BNB) were down by 5.34% and 3.29% in the past seven days to hit $2,846 and $390, respectively during intraday trading, according to CoinMarketCap.
Bitcoin needs to reclaim the $40,000 zone 
The back and forth witnessed between the $38K and $40K zone is proving to be a hard nut to crack in the Bitcoin market. For instance, 13.8% of Bitcoin's supply has moved between $38,000 and $41,000.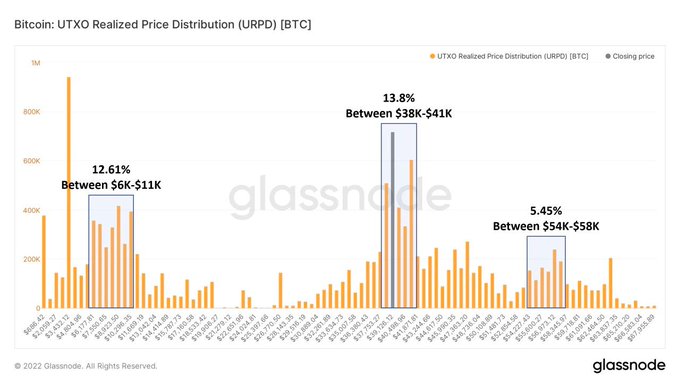 Source: Glassnode
BTC should reclaim the $40K area to gain more bullish momentum. Market analyst Michael van de Poppe believes this will become a reality if the leading cryptocurrency first breaches the crucial area of $38.5K.
He noted:
"Bitcoin is fighting a crucial area here. Breaking that one and we could see some more momentum upwards to $40K. While everyone is extremely bearish."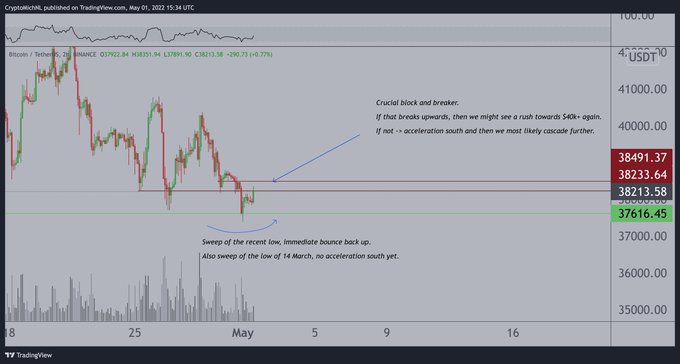 Source: TradingView
Meanwhile, BTC whales continue accumulating heavily as their holdings recently hit a 7-month high, Blockchain.News reported. 
Image source: Shutterstock